[NOMADE DES MERS] There's electricity in the air
Carnet de bord
Date of publication: November 22nd, 2020
Writer: Guénolé Conrad
Place: Sierra Madre de Oaxaca, Mexico
After our low-tech surf-trip on the Mexican coast, it's time to go back to our quest for low-tech ! Sidonie has just joined the crew. For the next few months, she will be the eye in the camera to document our discoveries. Here we are, a beautiful team of four sailors with very specific roles in perpetual collective intelligence/creation: Corentin the captain takes care of the boat and the navigation, Guénolé finds the low-tech actors and organizes the stopovers, Sidonie takes care of the sound and images and Caroline prepares the tutorials while taking care of the ecosystem on board!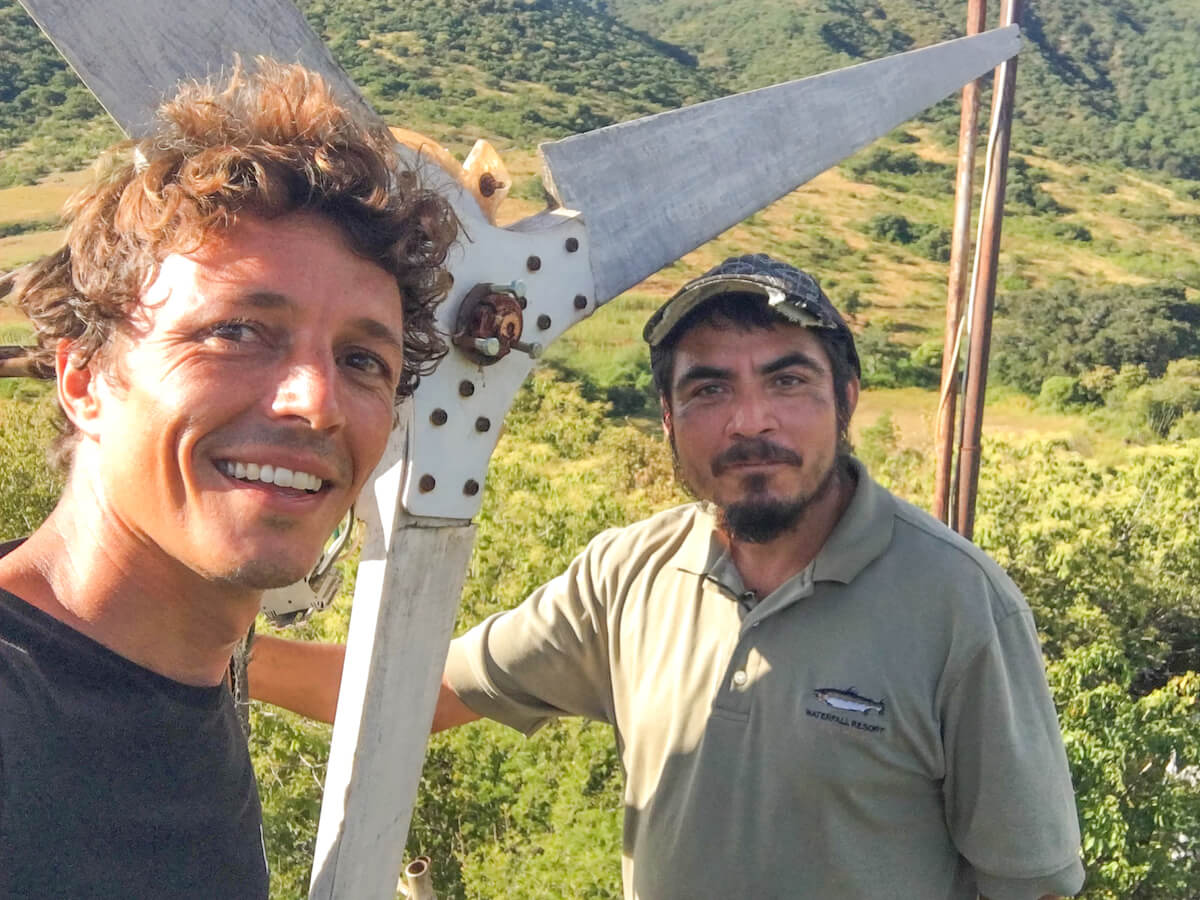 The boat is anchored in a marina in the south of Mexico, we wait for the strong wind of Tehuantepec to calm down before setting sail again.
Grupedsac, training and demonstration center for ecological technologies #
With our bags on our backs, the wind carries us to the mountains of Oaxaca.
The remote communities of this state, mostly indigenous, still have little access to electricity. This is the case in Ejutla De Crespo, the small village where we met the GRUPEDSAC association. For 18 years, the association has been working with the inhabitants to improve their energy autonomy and resilience
In this training and demonstration center for ecological technologies, we meet Felix, a self-taught man with a passion for electronics and mechanics. He tells us how he became passionate about energy and how he can build or repair everything locally.
" I grew up in a house without electricity. I soon became interested in how I could produce electricity myself to be more independent. If you have a river, wind or sun, you can create your own electricity! Everyone should learn this."
Pigott, a self-built wind turbine mainly made of readily available recovery material #
He presents his Pigott wind turbine: a self-built wind turbine, invented in the 70's by Hugh Piggott and now replicated worldwide. The reason for its success? It is mainly made of readily available recovery material: car axles, copper wire, magnets, wooden boards…
We are impressed by the number and quality of low-tech equipment present in this center: dryer, water heater, solar concentrator, phyto-purification, biodigester, dry toilets, lombri-compost, Patsari cookers, earthen buildings and superadobe… Imagine if this kind of popular education center was replicated all over the planet!
Our next meeting promises to be very dry… ☀️