[NOMADE DES MERS] Video tutorials: a mission accomplished thanks to you!
Article
Date of publication : March 15th, 2023
Author : Guénolé Conrad
In 2018, we organized a crowdfunding to produce written and video tutorials of each low-tech system discovered during the Nomade des Mers stopovers. Thanks to you, the production of 17 new tutorials had been financed! Some 5 years later, the contract is fulfilled: 17 new low-tech systems have been studied, documented and shared! All these tutorials are available on our Youtube channel and on our tutorial platform.
For the Nomade des mers, the adventure is over, but this knowledge will remain accessible to everyone for a long time to come! So it's never too late to try the tutorials that Corentin, Guénolé, Caroline, Sidonie, Omid and many others have produced over the last 5 years, rich in encounters. We would like to thank all the people who have passed on their knowledge and those who have allowed us to pass them on in return!
Today, we share with you asummary of the links to all this documentation!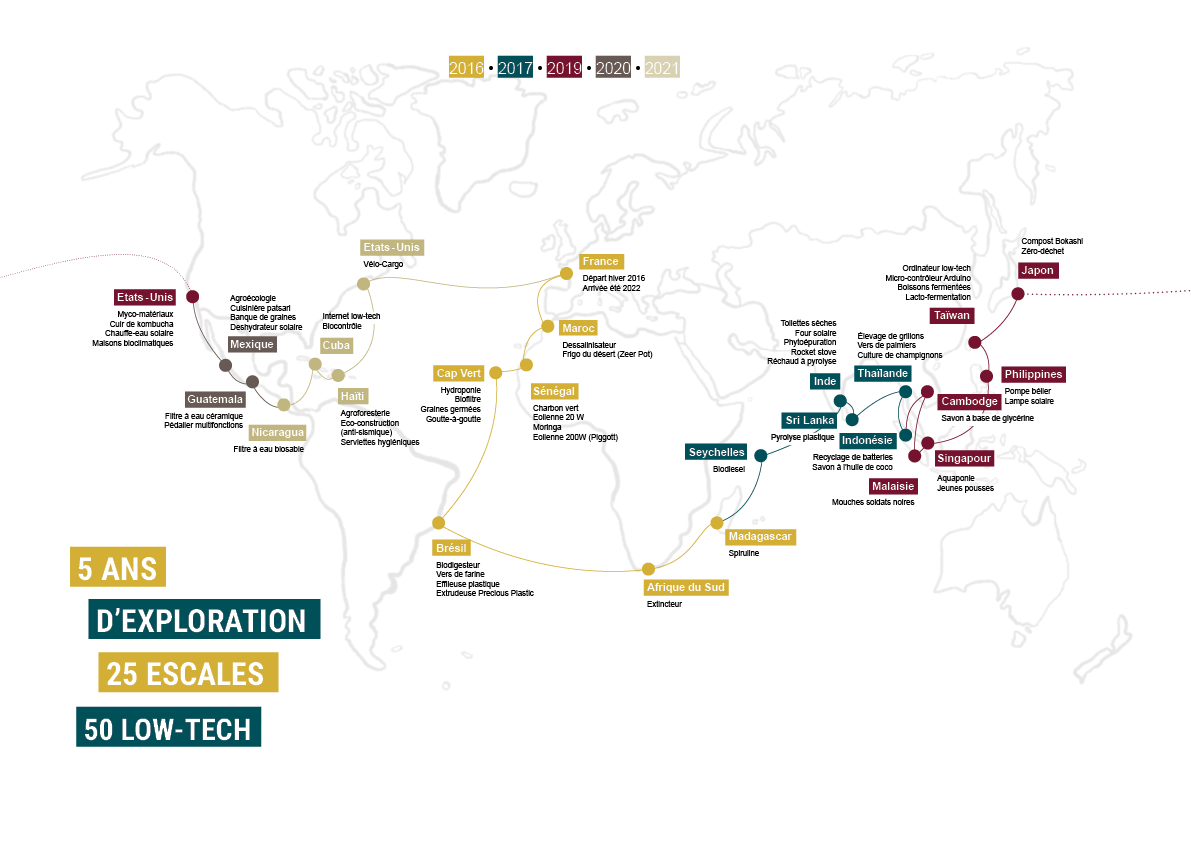 1- Recycled solar lamp💡 #
Directed by Omid Hashmedi, Guénolé Conrad, Corentin de Chatelperron and Cyprien Cayla.
Stopover: Philippines
With : Myrna Gayoso and Illac Diaz of Liter of Light
VIDEO TUTORIAL
TUTO ECRIT DETAILLE
BRUT NATURE VERSION
2- Hydroponics 🌱 #
Directed by Omid Hashmedi, Guénolé Conrad, Corentin de Chatelperron, Coline Billon and Valentin Coyard.
Stopover: Singapour
With: Darren Tan of Comcrop
VIDEO TUTORIAL
DETAILLED WRITTEN TUTORIAL
BRUT NATURE VERSION
3- Ramp pump 💦 #
Directed by Omid Hashmedi, Guénolé Conrad, Corentin de Chatelperron and Cyprien Cayla.
Stopover : Philippines
With: Auke Idzenka of AIDFI
VIDEO TUTORIAL
DETAILLED WRITTEN TUTORIAL
BRUT NATURE VERSION
4- Black soldier flies breeding 🐛 #
Directed by Omid Hashmedi, Guénolé Conrad, Corentin de Chatelperron, Coline Billon and Valentin Coyard.
Stopover: Malaisia
With: Emilie Devic, Anne Deguerry and Frédéric Viala of Entofood
VIDEO TUTORIAL
DETAILLED WRITTEN TUTORIAL
BRUT NATURE VERSION
5- Edible crickets breeding 🦗 #
Directed by Omid Hashmedi, Guénolé Conrad, Corentin de Chatelperron
Stopover: Thailand
With: Tui Thanawart
TUTO VIDEO BRUT
DETAILLED WRITTEN TUTORIAL
6- Zero-waste kit ♻️ #
Directed by Sidonie Francès, Guénolé Conrad, Corentin de Chatelperron and Claire Mauquié
Stopover: Japan
With: Terumi Azuma of Kamikatsu Polestar Café
Liens tutos écrits:
VIDEO TUTORIAL
DETAILLED WRITTEN TUTORIALS:
Lessive en poudre
Dentifrice maison
Produit vaisselle
Déodorant maison
Boissons fermentées
Conserve lacto-fermentation
7- Domestic wind-turbine ⚡ #
Directed by Sidonie Francès, Guénolé Conrad, Corentin de Chatelperron and Caroline Pultz
Stopover: Mexico
With: Felix Gonzales Gopars of Grupedsac
VIDEO TUTORIAL
DETAILLED WRITTEN TUTORIAL
8- Solar dryer ☀️ #
Directed by Sidonie Francès, Guénolé Conrad, Corentin de Chatelperron and Caroline Pultz
Stopover: Mexico
With: Paula Anguiano and Rodrigo Ochoa of Congelados y Deshidratados del Campo
VIDEO TUTORIAL
DETAILLED WRITTEN TUTORIAL
9- Oyster mushroom cultivation 🍄 #
Directed by Sidonie Francès, Guénolé Conrad, Corentin de Chatelperron and Caroline Pultz
Stopover: Mexico
With: Antonio Santa Ruiz of Proasus
VIDEO TUTORIAL
DETAILLED WRITTEN TUTORIAL
10- Ceramic water filter💧 #
Directed by Sidonie Francès, Guénolé Conrad, Corentin de Chatelperron and Caroline Pultz
Stopover: Guatemala
With: Philip Wilson of Ecofiltro
VIDEO TUTORIAL
DETAILLED WRITTEN TUTORIAL
11- Pedal-powered machine🚲 #
Directed by Sidonie Francès, Guénolé Conrad, Corentin de Chatelperron and Caroline Pultz
Stopover: Guatemala
With: Mario Juarez and Marisol of Maya Pedal
VIDEO TUTORIAL
DETAILLED WRITTEN TUTORIAL
12- Domestic biodigestor 🐄 #
Directed by Sidonie Francès, Guénolé Conrad, Corentin de Chatelperron and Caroline Pultz
Stopover: Nicaragua
With : Fidel Altamirano, Rene Rocha and the team of blueEnergy Nicaragua
VIDEO TUTORIAL
DETAILLED WRITTEN TUTORIAL
13- Biosand filter 🚰 #
Directed by Sidonie Francès, Guénolé Conrad, Corentin de Chatelperron and Caroline Pultz
Stopover: Nicaragua
With: Esmelda Fuentes of blueEnergy Nicaragua
VIDEO TUTORIAL
DETAILLED WRITTEN TUTORIAL
14- Low-tech & digital 📡 #
Directed by Corentin de Chatelperron, Caroline Pultz, Sidonie Francès and Guénolé Conrad
Stopover: Cuba
With: El Doom of the Street Network (SNET)
VIDEO TUTORIAL
DETAILLED WRITTEN TUTORIAL
15- Spirulina cultivation🦠 #
Directed by Sidonie Francès, Guénolé Conrad, Corentin de Chatelperron and Caroline Pultz
Stopover: USA
With: Jonas Guenther and Mickeal Udovich of We Are The New Farmers
VIDEO TUTORIAL
DETAILLED WRITTEN TUTORIAL
16- Solar oven ♨️ #
Directed by Sidonie Francès, Guénolé Conrad, Corentin de Chatelperron and Caroline Pultz
Stopover: USA
With: Alan Bigelow of Solar Cookers International
VIDEO TUTORIAL
DETAILLED WRITTEN TUTORIAL
17- Conclusion: 6 years of low-tech exploration around the world 🌍🛠️ #
Directed by Sidonie Francès, Guénolé Conrad, Corentin de Chatelperron and Caroline Pultz
THE VIDEO