Meet the low-tech actors in your area #LowTechTour
Article
Date of publication : September 16th, 2021
Location : Concarneau, France
Author : Julie Mittelmann
English translation : Marie Doke
The Low-tech Tour is a summer event of about a week, its aim is to gather together a dozen or so members for a cycle tour to go out and meet the low-tech actors in the region. Launched in 2019 by the Low-tech Lab Grenoble, the idea is to discover those organisations and actors in your local region.
What follows is the detailed account of our Low-tech Tour Californouaille in the Concarneau region and we hope it inspires you go adventuring.
DAY 1 - MOBILITY AND FABLAB #
We decided to start our Low-tech Tour in Concarneau itself: our first stop was at C.R.A.D.E (Centre de Recherche sur l'Avenir des Déplacements Écologiques), an organisation founded in 2010. This bicycle repair shop is completely independant and works thanks to the efforts of passionate, motivated volunteers. It is based on a desire to pass on knowledge and to permit individuals to become self sufficient. 1000 bikes a year pass through its doors. In addition to being able to purchase a bike repaired by volunteers, everyone is welcome to come and learn how to fix their own bike in an atmosphere of learning and good will. After tightening up a few bolts in our own convoy, we headed towards the Konk Ar Lab, « le fablab de la baie » also in Concarneau. Founded in 2017, this studio laboratory is a place for building and sharing. A number of different tools and machines are made available to group members allowing them to come and tinker away at personal projects or to build and repair together. The laboratory also puts on events and is a hub for local initiatives. By way of example, we arrived at Konk Ar Lab at the same time as a stage of the Breizh Sun Trip, a bike race for solar powered bicycles where 20 or so participants were on a 1000km tour around Bretagne. Each bike was more interesting than the last; solar trailer, a bike with a solar panelled roof etc! Not very low tech perhaps but showing remarkable imagination. You may have seen them on your screens as they were able to take on the last few kilometers of the stage of this year's Tour de France.
Day 2 - A LOW-TECH BREWERY YOU SAID? #
Three visits for the second day: two artisanal breweries and a charity. To start with we went to meet Erwin who, after touring the breweries of Europe, founded his own artisanal brewery, organic and local in Concarneau: Storlok. We learned about the process of beer making, brewed here using the infusion method. Discussions about future bottle returns, waste recovery, difficulties relating to the current health crisis and observations on the problems of sourcing the primary ingredients were extremely informative. With our heads full of ideas, we continued on to the next artisanal, organic brewery: Tri Martolod.
Tri Martolod is 13 associates and 2 employees who share in the production and sale of their beers. The brewing
technique here is different: decoction. The venue is also open to the public with the shop next to the production area, and includes a bar, a restaurant and concerts which take place all through the summer. Finally, we finished the day at Konkern Solidarity. The organisation has been running since 2017 and provides food aid.
This year 400 people benefitted from that aid. The entire administration is made up of volunteers and all decisions are made collectively. The expenses (rent, utilities etc) are self funded through the other activities of the charity. Donations of clothing, furniture and other household goods are sold cheaply in the local area. Wewere very impressed by the work done by and the commitment of the volunteers.
Day 3 - ART AND LOW-TECH #
After a night under the stars we headed to Rosporden to investigate Kerminy! A mix of artists' residences and experimental farms all with a deliberately low-tech approach. On the 12.5 hectare site which comprises a manor house, some ruins and a chapel open to the sky, we found a number of societies: Open (the group
which is linked to bringing resident artists to the manor), N (responsible for the politics of the site and which is responsible for various activities at Kerminy), Cyclo-farm (which deals with the market garden and its implements, studying the links between body and instrument) as well as Ecosoma (which investigates through its activities nature based healing practices). At Kerminy, the artists work with civic services, woofers, permanent volunteers and with the family which brought this place to life. The highlight of our visit, a moonlight concert by "Astral Kanevas" a low-tech music box.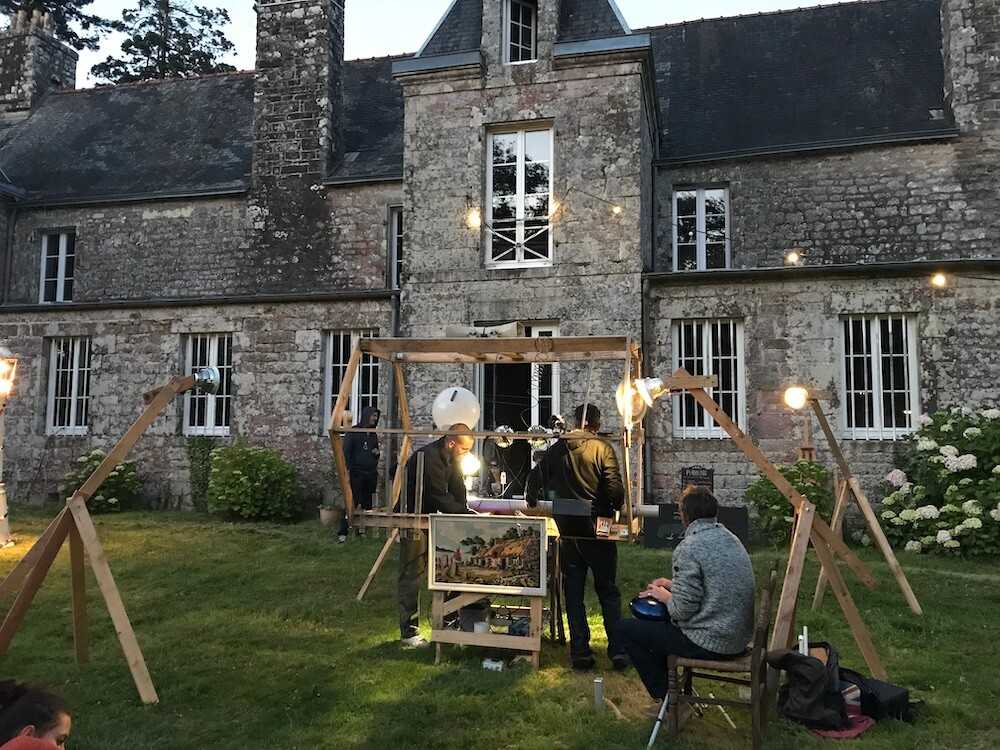 DAY 4 - THE HANDS IN THE EARTH #
We left the magnificent surroundings of Kerminy for La petite ferme de Kercaudan near Pont-Aven. Arthur and Aline, who started this organic farm, shared their daily routine with us and allowed us to visit their home, their greenhouses and to wander up and down the rows of different vegetables. They are not short of projects with a cider production and soon a bakery. Most of their sales are made through markets and direct to the public based on a trust system (the consumers collect their own baskets). We would willingly have lent a hand to weed out the carrots (which seems to be the most time consuming job) but we arrived too late and left too early. In future, we will set aside more time for our visit and 'get our hands dirty'.
DAY 5 - MELTING POT OF IDEAS #
The last day of our trip took us to Névez, to the Vergers de Trévignon. Renaud and Caroline welcomed us to their boutique near the orchard. Apart from their cider production which started in 2017, there are a number of other projects: the installation of a phyto-purification system, building a micro brewery, a clay and straw site for their building as well as a subsistance farming area for a collective of 12 families. They are full of ideas and the desire to put them into practice.
We spent our last night at Atelier Z. Created 10 years ago, this studio is a laboratory for experimentation, a convivial place to encourage local activities with the aim of developing sustainability and sharing knowledge. A place to chat, tinker, brew, cook, participate in technical classes, visit, meet up, attend conferences, share ideas… quite simply a place to have a good time, preferably over a local beer or a wood fired pizza hot from the oven.
THE LAST WORD #
We would like to thank all the people who welcomed us with generosity and confidence and who took the time to show us their projects, their successes as well as their failures, their difficulties and their ambitions. We came away motivated and with our team spirit boosted to continue the activities of Low-tech Lab. We also left with the satisfaction of having made some human connections with the actors here in our region. As a bonus, our Low tech Tour Californouaille also allowed those actors to meet and to dream up projects together, with us and without us.