[NOMADE DES MERS] Hydroponics, biofilter and sprouted seeds in Cape Verde
Carnet de bord
Publication date : June 15, 2016
Authors : Pierre-Alain Lévêque, Elaine Le Floch and Corentin de Chatelperron
Location : Praia, Cape Verde
Cape Verde #
Cape Verde, named after its abundant vegetation in the 15th century, before the drought arrived, is an archipelago made up mainly of volcanic rock and has very little fresh water. This territory depends largely on the outside world for its subsistence : arable land covers only 10% of its surface and Cape Verde imports more than 80% of its food needs.
This 20-day stopover in Praia, Cape Verde, is the ideal opportunity to get interested in soilless and water-saving cultivation techniques.
Many experts are already waiting for our nomads :
Sergio Roque Monteiro : hydroponics expert, precursor of the technique in Cape Verde.
Gilbert Duarte : member of INIDA (Instituto Nacional de Investigação e Desenvolvimento Agrário) national research program on hydroponics.
Thomas Blangille : our expert partner in France, member of GHE.
Hydroponics #
In Cape Verde, 80% of fruits and vegetables are imported. 90% of the territory is uncultivable. Indeed, the archipelago is an arid zone, rainfall is rare and the land is rocky. These constraints have led farmers to find solutions to improve crops: drip irrigation at first, then hydroponics. It is this system that the Nomade des Mers team was interested in during its visit.
Sergio Roque Monteiro, a Brazilian agronomist, has been developing hydroponics in Cape Verde for 15 years. His main objective is to achieve "popular" hydroponics, accessible to small producers. As a local expert in the field, he is now accompanying INIDA towards this sustainable culture and has provided the crew with his expertise to optimize the system aboard the Nomade des Mers.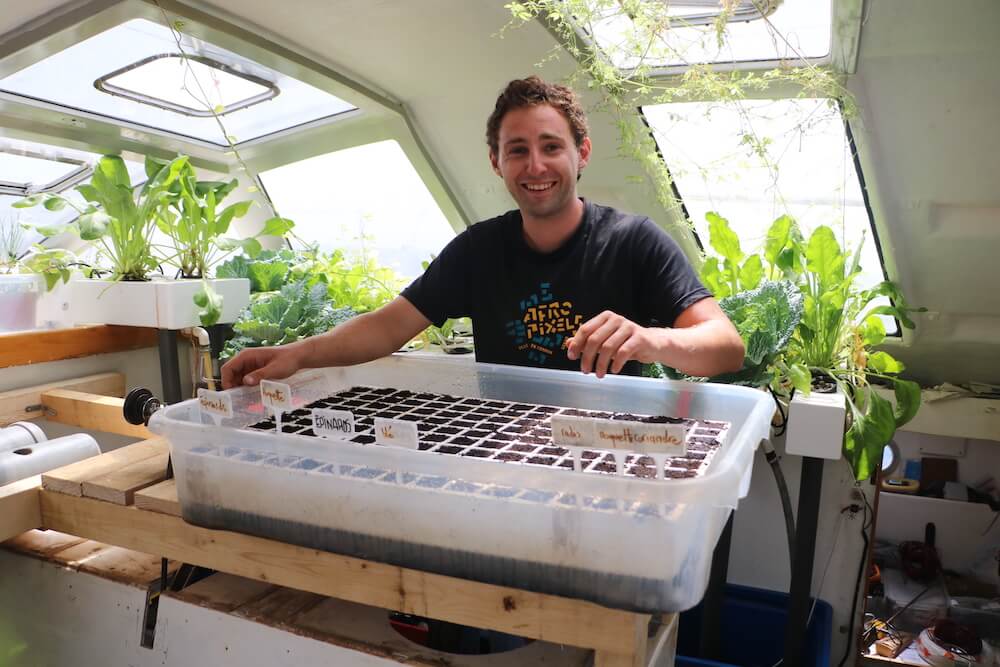 Hydroponics is a system of soilless cultivation of plants and vegetation that allows to save water compared to soil cultivation. The roots are immersed in a neutral and inert substrate (such as clay balls, sand…) which serves as a support. They directly capture the nutrients necessary for their growth in the water enriched by a nutritive solution. This system is relevant in environments where the cultivable surface is limited or polluted.
Soil culture is still to be preferred when possible, however, hydroponics can perfectly meet the needs of populations in arid regions where fertile land and water are scarce and in environments where the cultivable surface is limited or polluted. In cities and urban areas, where few spaces are available for cultivation in the ground, it is particularly suitable for cultivation in restricted spaces (roofs of buildings, apartments, disused factories…). Being able to be developed vertically, hydroponics also allows for a much higher production per square meter than soil-based agriculture, while allowing for a return to culture among city dwellers, who are often disconnected from nature. However, hydroponics can be costly and not very ecological if it is set up in a greenhouse with artificial lighting and heating or with chemical inputs.
Germinated seeds #
The stopover in Cape Verde was also an opportunity to learn about sprouts and germinated seeds, which are now an important part of the Nomade des Mer crew's diet.
A sprout or a shoot is a dry cereal or vegetable that is soaked to soften the skin (the tegument) and let it germinate. Sprouts and shoots are particularly nutritious because they contain the highest energy content that a plant can produce during its life cycle. With very little water, these young shoots and sprouts grow in just a few days to accompany a dish or even make a salad.
The more light the seeds are exposed to, the longer they will take to germinate. Jars should be kept at an angle, with the opening at the bottom, to allow for residual water drainage. If the jars or trays are too full, the seeds may become moldy. Moreover, the germs which do not become green at the end of germination are as nutritive as the others, they simply do not contain chlorophyll. Finally, not all sprouted seeds are edible: tomato, eggplant, bell pepper and rhubarb seeds are toxic.