[NOMADE DES MERS] New-York: meeting the algae farmers of the future
Carnet de bord
Date of publication: 22th september 2021
Writers: Caroline Pultz
Place: New-York, United States
With the whole crew (welcome back Sidonie & Guénolé, read our last story here!), we set off to discover a new kind of urban farm in which a 3 billion year old blue-green algae is flowing… Located inside the former US Army supply terminal in Brooklyn, we meet Jonas and Michael.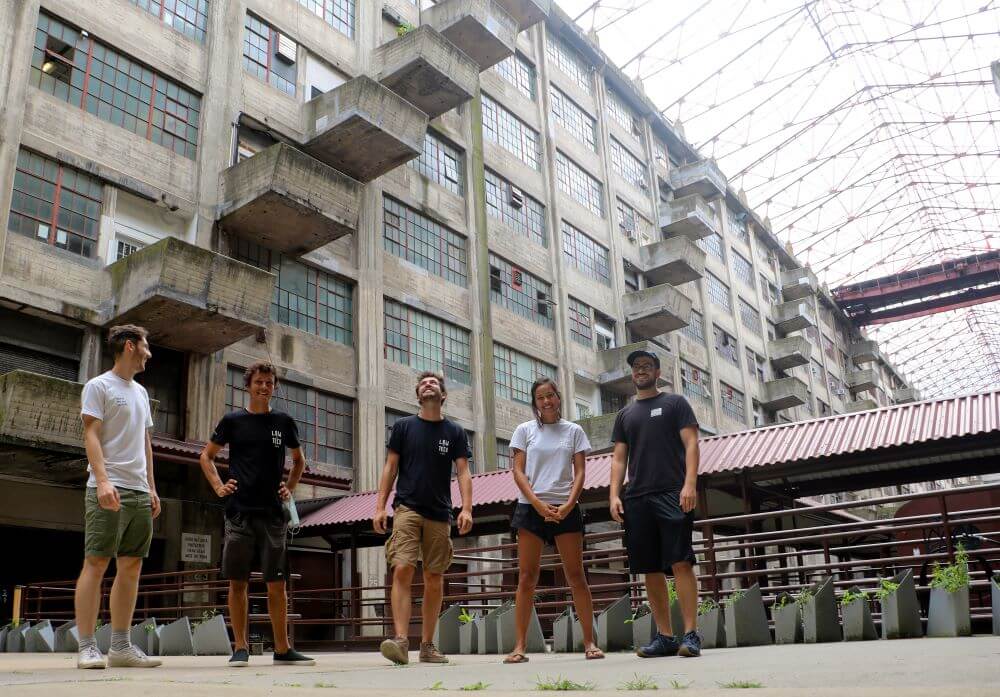 A new generation urban farm! #
« We call ourselves We Are The New Farmers because we want to rethink the way we grow food. Our farming system contributes to at least 30% of all man-made carbon emissions, and climate change is something we care about here. »
When they started researching food production systems, Jonas & Michael tried to find ways to grow food with a low carbon footprint, but also with high nutritional value. Growing spirulina fits this equation perfectly!
Golden green #
Spirulina is a micro-algae so small that when you look at it under the microscope, you discover that they are tiny spring-like beings. They turn on themselves to catch the sun and photosynthesise. They need CO2 from the air and a source of nitrogen and iron to grow.
Full of vitamins, minerals and plant proteins, spirulina is delicious and is described as a very healthy food for humans.
A resilient, local, year-round crop #
Jonas explains that this organism needs a very warm climate (ideally between 30 and 35°C). It is found naturally in Mexico and in some African countries. During our stopover in Madagascar, we had discovered the work of Doctor Vola: she used spirulina found in its natural state in lakes in the south of the island to treat children with nutritional deficiencies. This time, we were curious to see how to get it in an urban environment!
Here in New York, the We Are The New Farmers team grows indoors to replicate optimal conditions, totally independent of the weather (it is indeed a nice urban farm!). Every week, they collect one third of the fresh spirulina they produce.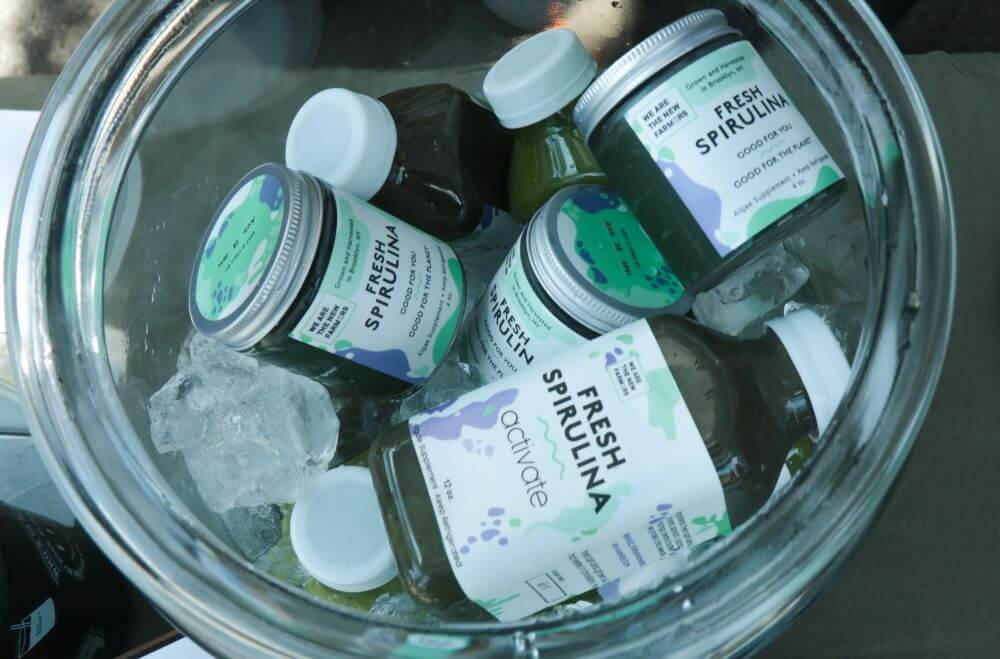 "If we look at possible solutions to climate change through food, microalgae are multiplying abundantly and its large-scale production can be done very quickly, which makes it a very unique product."
We often know spirulina as a dehydrated product or as a food supplement. According to We Are The New Farmers, spirulina is much better when it is fresh, so ideally it should be grown as close to the consumer as possible, in the heart of the city!
« Our customers care deeply about nutrition and where the food comes from, but also care that the food production methods do good for the environment by looking at the different sources of carbon footprint. »
Growing spirulina requires 19 times less CO2 to produce the same amount of protein as beef. Even if the micro-algae is grown in water, it is still a small fraction of water compared to traditional farms. Spirulina needs less arable land to protect our forests and relieve traditional agriculture.
Microalgae back in fashion #
Today, microalgae is one of the most nutrient-rich foods on the planet. These 'New Farmers', by growing microalgae and developing delicious products to suit our diets and lifestyles, are seeking to build a circular future in which what we consume sustains - rather than depletes - the planet we live on.
On the boat, we are convinced that spirulina is the ultimate low-tech food. In the cities of the future, we dream that the rooftops will be green with spirulina to take the sun! In the Low-Tech Lab, we encourage its reappearance in places where it was traditionally present. In addition to being highly nutritious, it is easy to grow: home growing allows you to integrate this microalgae into your daily diet.
Want to see how we produce our own spirulina culture on board the Nomade des Mers?
**We are opening the doors of our laboratory boat for Climate Week 2021 in New York to present the low-tech solutions we have been experimenting with on board for the past 5 years!